Thursday 11th March - Day 32
Why do people write songs about places? Why did Neil Sedaka decide to set this irritating catchy pop song in Amarillo, Texas? Well, seemingly it was the only place he could find that rhymed with
pillow
and
willow
. It's not a terribly well-known song in America. However, in the UK and in Germany it's huge.
Tony Christie
, a poor man's Englebert Humperdink, made it a hit in 1971. And then in 2005 it was re-released for charity with a video fronted by the British comedian Peter Kay. Kay is a rare comedian who is popular with the broadest of mainstream markets as well as making really clever cult TV shows. (
Phoenix Nights
is a tremendous series set in Bolton, Lancashire not Phoenix, Arizona.) The video is a rare and stupifying collection of British household names many of which will be complete unknowns to Americans. It's willfully and unashamedly cheesey and makes me feel conflicted. But it has to be saluted for being the only pop video to feature Shaun Ryder & Bez from the Happy Mondays as well as Brian May and Roger Taylor of Queen. And if that isn't weird enough, then you can add Shakin' Stevens and Heather Mills to the mix. And five dwarves wearing Bolton Wanderers footy shirts.
I've got nothing to say about the town as we just used it as a rest stop on the way to Denton Texas where there's a free concert happening on Saturday. The west Texas landscape didn't look that inspiring... though we did see real tumbleweeds.
And we drove past what claimed to be the largest cross in the western hemisphere. It looked identical to one we saw in Ohio. Very odd indeed. The sign promised us a "spiritual experience never to be forgotten" but, heathen fools that we are, we passed on that. I might save myself for the biggest cross in the world, but I guess I'll have to go to the eastern hemisphere for that. Which is surprising because my money would have been on America being number 1 in that field.
Highlight of the day though was seeing the real place that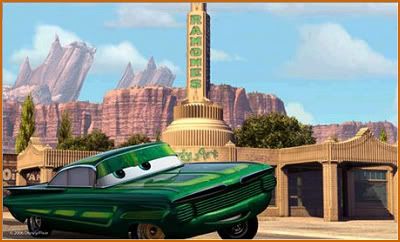 inspired the body shop (garage) from the movie Cars. It's called the U-Drop Inn and it's in a town called Shamrock. It's not operational anymore, but that's the price of progress. The interstate goes right by the town but back in the golden days Route 66 went right through the heart of it. Modern roads save time but we lose lots of other stuff. Still at least they had the good sense to preserve the building. It's beautiful.