Saturday 27th March - Day 47
That was a number 2 hit record in the UK in 1975. No wonder we needed punk rock. (Though in no way should that statement be construed as a slight on Laurel & Hardy. They were brilliant.)
Anyway. Glory hallelujah I recovered. Saturday morning came with lots of sunshine and a sense of wellness. It was a lovely day and we spent it driving through the Blue Ridge Mountains. Which, as this helpful little map shows aren't just in Virginia.
But they are blue. Ridge after ridge each one a little further away then the last get progressively blue as the peaks become ever more fuzzy in a haze that's created by the sweat of pine trees. No seriously... the trees release this chemical called Isopreen and that's what turns the haze blue. It sure is pretty though. It really does looks like this.
Now we've spent a lot of time on this trip on interminable interstate roads that will make any British driver appreciate the beauty that surrounds our motorways. Not every mile of them of course but take the M62 eastwards out of Manchester and try and say that the Pennines aren't beautiful. (Don't go west out of Manchester for heaven's sake... that way leads to Mordor, or Liverpool as it is also known.)And it seems a long time since we had a really beautiful drive. Maybe it was back in New Mexico. But the Blue Ridge Parkway is one of the most beautiful roads I have ever had the privilege of driving along.
The Blue Ridge Parkway is a single lane road. It's classified as a National Parkway and runs for 469 miles from North Carolina to Virginia (where it becomes Shenandoah's Skyline Drive.) It's a very special road, most of it is over 3000feet high and the land on either side of the road is maintained by the National Park Service. It was commissioned as part of FDR's
New Deal
though it wasn't completely finished until 1987. FDR and his policies are hated by right wing Americans who fear anything socialist. But if our current depression (which I think is mostly bollocks) were to lead to anything as wonderful as the Blue Ridge Parkway I'd be very surprised. I'm surprised I hadn't heard of it before. Or seen it in any number of car commercials. It's a road made in advertising heaven. Maybe it's good that it's not so well known because it's pretty empty. We joined the parkway at Asheville and drove for over 300 miles and most of the time we didn't see many other drivers at all. It's not as wonderfully lonely as Wyoming but it's a welcome change for us British drivers and reminds us just why driving in Britain is mostly hellish.
Maybe the roads were particularly empty because the it was still considered out of season. I've been surprised by how much things shut down here for winter. There were parts of the Parkway that were still shut for the season despite it being April and sunny. But it's mountain country and the road is thousands of feet high. Or maybe it's quiet because there aren't any modern attractions on the roadside and America has become so used to it's strip mall lifestyle that it doesn't want to be too far away from a big parking lot, a Subway and a Dollar General. But if so then praise the lord and pass the people some more burgers because a road as lovely would be spoiled by over use. See the English lake District on a Bank Holiday weekend for details.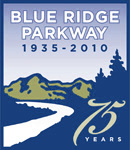 If you want to look at it using google maps then click
here
. But better still... go and see it yourself. It's really special. It's 460 miles long and not one billboard. Happy 75th birthday Blue ridge Parkway.